Two years ago, GOGOVan Singapore was launched with a vision – to solve last mile delivery inefficiencies between businesses and customers. Today, we have completed over 500,000 orders and amassed over 10,000 drivers to fulfil same day delivery. With the introduction of GOGOVan, everyone can conveniently book a van via a mobile app: Same Day Delivery At Your Finger Tips. Join us in celebrating the birth of an efficient last mile delivery ecosystem in Singapore.
---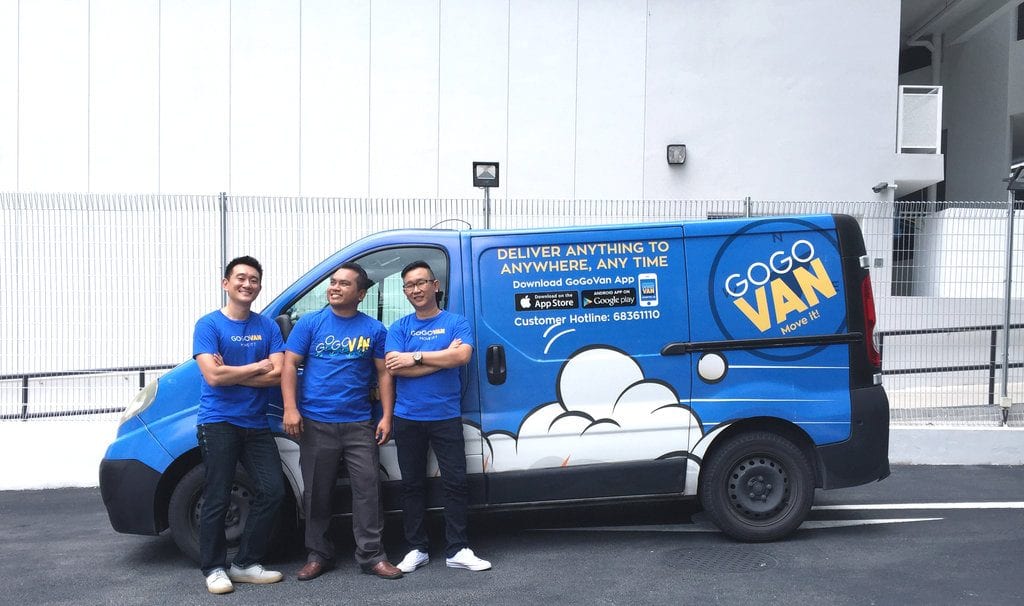 Our Logistics Partners, Our Family
On 1st July 2014, GOGOVan Singapore completed our first 10 orders. In two years, we have over 10,000 registered drivers in our network, making islandwide delivery a possibility. With the increasing amount of customers demanding for same day delivery, this is proof of the potential of GOGOVan in improving Singapore's logistics landscape.
Here at GOGOVan, drivers are our most important asset and we appreciate them and respect as they are family. Before any driver becomes a part of the GOGOVan family, careful screening and detailed training are provided. We value hardworking drivers and ensure that the best drivers are rewarded to maintain service quality, and ultimately to satisfy the customers.
GOGOVan believes that the key to creating customer loyalty is to recognise the work of our drivers, hence investment in driver incentives is key to our success.
Our Service, Improve Inefficiencies
Delivery and transport costs have plagued businesses with its high cost and inconvenience. GOGOVan fills this gap by offering same day delivery services at affordable prices. We provide both the driver and vehicle, while our customers enjoy the entire service process without breaking a sweat.
Improving inefficiencies in logistics is key to our service as we aim to make the lives of our customers easier, and also services cheaper.
In 2016, the Singapore government expressed its focus on improving last mile delivery. We will continue to further innovate logistics to enhance the livelihood of locals and businesses here. We are invested in analysing real-time data, growing the supply of reliable drivers and allocating resources to ensure consumers demands are met. Improving inefficiencies in logistics is key to our service as we aim to make the lives of our customers easier, and also services cheaper.
---
2nd Anniversary: Round 2, Let's Go 
This month of July, we invite you to join us in our celebrations as we continue to embark on this journey to build a logistically sustainable future for Singapore. We are excited to share our two-year milestone in Singapore with you, and we will work hard to serve you better in future. #Round2LetsGo #GoGoVanTurnsTwo
Here is the line-up for our month long anniversary celebration:
WEEK 1: Round 2, Let's Eat
Have lunch at the comfort of your office in this GOGOVan Team Lunch Giveaway! Let us treat you and your colleagues to an awesome lunch with $200 worth of foodpanda delivery vouchers.
GOGOVan started our humble beginning as a lunchbox advertising company in Hong Kong but soon evolved into a disruptive player in logistics. Same day delivery is now possible in countries like Hong Kong, China, Taiwan, Singapore, South Korea and India! Celebrate the power of pivoting with this team lunch giveaway.
TWO LUCKY WINNERS will stand a chance to win $200 worth of foodpanda vouchers EACH. Follow these steps:
LIKE our GOGOVan Facebook Page
LIKE and SHARE the pinned post
TAG FIVE (5) other colleagues whom you wish to share these lunch vouchers with!
Contest ends Wednesday, 21 July 2016, 23:59. Terms & Conditions apply.
---
WEEK 2 & 3: Round 2, Let's Save
Get 10% off all deliveries when you book via the GoGoVan app or web platform. Save valuable time, stay productive.
Why enjoy 5% when you get twice the discount when you book via the GOGOVan app. Book now to GET 10% OFF ALL DELIVERY!
Use GOGOVan to deliver small documents or parcels to your family, friends and colleagues. Use GOGOVan to get your bed frames and mattresses transported at 10% cheaper! Use GOGOVan to get the job done for within the same day, anytime and anywhere.
With GOGOVan, you dream it, we move it. Deliver with GOGOVan now.
---
Week 4: Round 2, Let's Celebrate
We are hosting a small gathering to show appreciation to our hardworking drivers who have supported GOGOVan through the years.
People ask us how credible can a freelance driver be? This closed event is a celebration of the top drivers who have excelled in service for the past two years.
They have either completed the most number of orders, have the highest 5-star order rating or has been with GOGOVan right from the start. Who says freelance drivers aren't reliable?
Follow us on Facebook for a coverage of the event.
---
CEO Steven Lam: "I am the bottleneck of the company."
While speaking at the recent Forbes Under 30 Summit event in Singapore, Steven Lam admits that GOGOVan is growing faster than he is. The 30 year old CEO expressed the need for other CEOs to acknowledge their weaknesses and ensure the talent pool in the company grows with like-minded people. Like the saying, "It's the people who create value for your business." We are truly blessed.
Thank you for the past two years, and we will see you in many years to come.
---