Deepavali is coming up! Deepavali (also known as Diwali) is a festival of lights. It is the time of the year when Hindus, Sikhs, Jains and Newar Buddhist in Singapore and around the world enjoy festivities and celebrations for a period of four to five days! Here are some of the must-haves during this period of joyous celebrations!
Traditional Deepavali Treats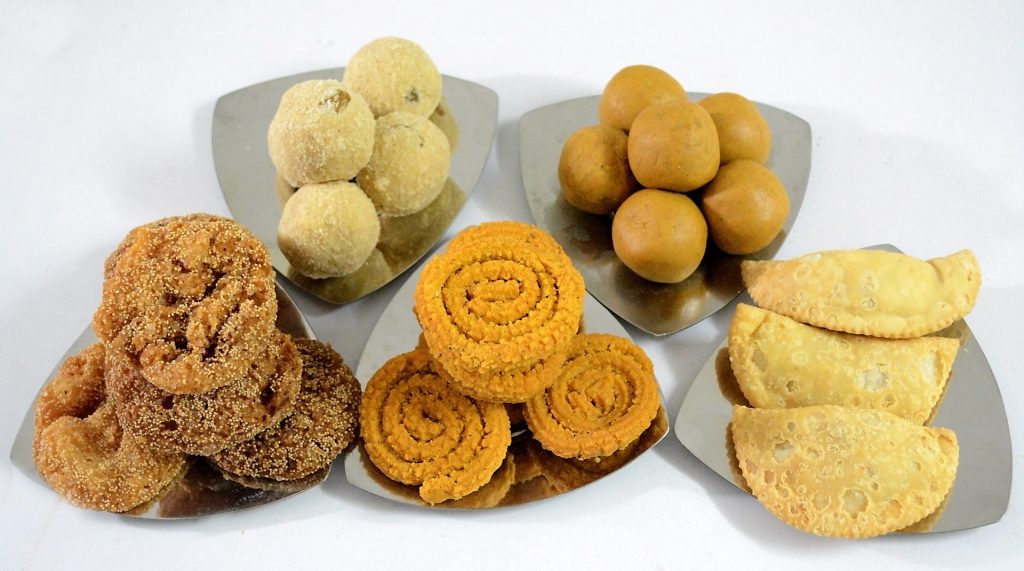 Desserts and treats! These are a must-have when it comes to Deepavali festivities and celebrations. Among the large assortment of treats to choose from, mithai, is one of the most popular! Mithai include kaju katli (made with cashew), barfi (milk-based mithai) and pista rolls (pistachio-based mithai). Let Deepavali be the time when you can enjoy great sweet and savoury treats with family, friends and neighbours! Head over to the Deepavali Festival Village 2019 to buy from the large assortment of goodies! 
Rangoli
Rangoli is a form of art that includes patterns that are created on the floor using materials such as coloured rice, dry flour, coloured sand or flower petals. They are used as decorations during Deepavali celebrations and are a symbol of good luck.
Visit the "Jothi Store and Flower Shop" at Campbell Lane this Deepavali to get all your ingredients to create your very own Rangoli! At the store, you can also find other essentials such as skincare products, religious items and as the name suggests, flowers! What's more, every year the Jothi Store and Flower Shop opens a Deepavali Market, bringing to you all the essential furnishing and decorations that you would need for Deepavali!
Traditional Indian Clothing
Deepavali is the time of the year to embrace culture! How better to do that than wearing beautiful Indian traditional clothing? Come together with friends and family in colourful sarees and kurtas to celebrate the festival of light. 
Buying brand new traditional clothing is fun and easy! Visit the well-known mall Mustafa Centre for good deals on great clothing. You can also take a walk along Campbell Lane in Little India from 18 to 26 October to take a look at all Deepavali themed items at the Deepavali Festival Village. You can even purchase your new traditional clothing online Cbazaar! There is definitely something for everyone!
How Can GOGOVan Help You?
Select the size of the GOGOVan transport vehicle that will best suit all your needs. With customisable manpower addition options, you can even choose how much additional help you require for the most savings! Furthermore, experience immediate logistical support, make a booking on the GOGOVan App and get matched with a driver within seconds! You can also reach our Customer Service Support Staff daily from 9am to 6pm at 6836 1110. With GOGOVan, experience efficient, reliable and care-free service.
Furthermore, this Deepavali use "GOGODEEPAVALI3" to get $3 off all your delivery and passenger van orders! Our GOGOVan Logistics Partners are Delivering Happiness to everyone during this festive period. Promo Code is valid till 28 October 2019.
Related Articles: 3 Simple Tips To Effectively Communicate With Your GOGOVan GOGOX Driver
About GOGOVan:
We provide on-demand, same day delivery service and booking delivery services. We can help you deliver gifts, move furniture, courier documents, plants, etc to your office, your home and to any event. GOGOVan connects you with the thousands of drivers on the roads every day to allow you to get quick and efficient services, same-day and on-demand, with the flexibility to schedule a pick-up or delivery one month before, or one hour before the time you need it.
Want to know more about us, you can go to visit the website. You can also download our on-demand app (iTunes / Play Store), and place a booking at your fingertips!
---